Don't Get Left Behind! Keep Your Software Up to Date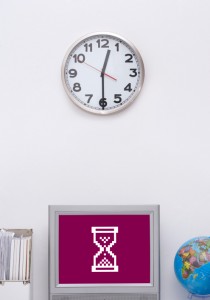 Software developers know how important it is for users to install updates. Even so, it's not always convenient to apply the latest fix to a production system. The keys are to help users understand why the update is important and to make the update process easy to complete. We at PVX Plus understand the challenge — and aim to make updates easy for both our dealers and end users.
What's the big deal?
We all know what it's like to get a call from a user who suddenly experiences a software glitch because he or she is using an outdated or unpatched version. Why do users resist updates?
Most people aren't deliberately putting their businesses and productivity at risk. However, update notices tend to pop up at the most inconvenient times: when users are in the middle of a deadline-driven project; when they're helping a customer place an order; or even during a meeting or presentation.
For most of us, no time is a good time for an update, especially if that update takes more than a few minutes, requires you to stop what you're doing and exit an application, or, worse, requires a full computer restart.
Benefits of software updates
Upgrading your software often is a good practice. It will introduce improvements and the newest or latest features, which can increase the efficiency of that software and thereby improve your productivity. Updates are one of the most important actions users can take to protect their systems and businesses. Here are a few top reasons why updates are essential:
Product enhancements
Developers are always listening to user feedback and fielding requests for new features and functionality. Upgraded software allows you to make use of new capabilities so you can carry out your tasks in an easier, more time-efficient, and effective manner.

Improved security
Updates frequently include patches for vulnerabilities in software. Keeping these patches up to date helps protect the business's data, customers, and reputation in the face of constantly evolving security threats.
Fixes
New versions of software are released from time to time to correct issues, introduce new features, or even improve the old ones. Applying fixes and minor changes ensures that the software runs smoothly and that users stay productive.
Compatibility
Technology is continually evolving, and for optimal efficiency, it's necessary to update. By keeping up to date, you are less likely to encounter compatibility issues, better able to deal with new issues, and less likely to find yourself with an obsolete version.
So, have you applied PxPlus updates lately?
While we are all highly aware of the benefits of applying updates, PVX Plus understands that you are busy and deeply engaged in your development projects. That's why we work hard to make updates easy for you and for your clients.
PVX Plus provides updates through the Online Updates feature added in PxPlus 2014. There are three ways you can access updates.
Windows desktop
From the Start menu, select All Programs, PVX Plus Technologies, PxPlus 2014, and then click Online Update.

IDE Main Launcher
Select Update from the top menu bar to display the Update Manager interface.
PxPlus Command Line
Enter the command UPDATES to access either a graphical or text-mode version of the Online Update feature that will allow you to enter, list, apply, and revert updates.
Key features of the PxPlus Online Update
Control when updates are done.
This is important since you want to be sure your users have all exited the system before you apply updates.
Check the status of updates.
The Update Manager interface shows you a description of each update and if it has been applied.
Decide which updates are applied.
You can choose to apply all updates or select the range of updates you want.
Revert to a pre-update point in time.
Updates are applied in order. If needed, you can reverse the process — also in sequential order to avoid conflicts.
Updates should always be a part of your regular development cycle. With the PxPlus Online Update feature, you can make sure you're up to date and protected — without interrupting your team's workflow. Upgrade your software today and stay ahead of your competitors.